Fossil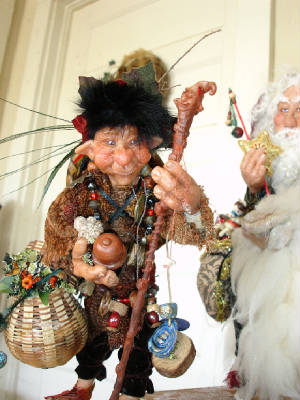 This unusual little guy is a "Gatherer". He is always on the lookout for objects to add to his collection.
He has four fingers on each hand and four toes on each foot.
The shell he is carrying on his back was something he found on one of his many wanderings.
He stands 14 inches tall and 6 inches across.
His head, hands, feet and the staff he is carrying were sculpted.
Price: $350.00 SOLD
Ol' Elfie
Ol' Elfie says he is inspecting all those toys, but I think he is taking a much deserved break. Sitting on a Mother Goose book that is propt on an old wood plate,
He is 6x6 inches.
Price: $175.00